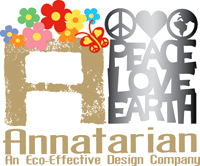 Happy Earth Day everyone! Today we welcome in
Anna Mikhitarian
, founder of
Annatarian.com
and
PeaceLoveEarth.com
, who believes that it is her responsibility as an artist, designer, and woman to promote positive change, embrace and create beauty, and always seek truth. Since being founded in 2001, Annatarian's eco-couture collections have been featured at the
Los Angeles Natural History Museum
, the
Sundance Film Festival
, and a special screening of
An Inconvenient Truth
at the
Los Angeles Grand Performances
with special guest
Al Gore
.
Read on for my interview with Anna:
What was your inspiration for creating your collections?
Beauty, Nature: the ocean, animals, trees, flowers, wind, sunsets; Music, Films, Fashion, Art, Humor, Peace and Love! This is what I want my dresses to exude- the best of all these! I also love that they are "One-of-a-kind Because You Are" Everyone wants something that is just theirs and fits them perfectly, with how it looks and what is means to them. I also love that people fall in love with the dresses, then are surprised to find out they are eco-friendly! That was a mission of mine that has been achieved!
What is your favorite piece in your collections?
Each piece is one-of-a-kind, and has it's own beauty. I do love how different fabrics come together to create something super special. And when something has meaning and beauty, it makes it even more beautiful to me. From creating beautiful dresses that symbolize world peace by combining fabrics from countries that has been at war to making a sentimental piece that combines a few special hand me down pieces to create the ultimate red carpet gown- they all are my favorites.
What are the general price points?
The bridal dresses usually start at $900 and can go up to $2500 or more, depending on the fabrics and handwork and hours needed to go into the dress. I have been know to do trades too! What are your skills? Graphics, web, anything may work- just ask! Who knows what we can work out! :)
Where can brides purchase your products?
Our jewelry, which have been used in the wedding ceremonies, as favors, and gifts to the bridal party, are available in stores around the country and abroad as well as on our jewelry site
PeaceLoveEarth.com
.
The dresses are sold exclusively through us, and you can contact us by phone, 818-458-7992 or email
store@annatarian.com